Simplex Housings
Basket filters & strainers will permit the straining & filtering of a wide variety of fluids, to retain solids of almost any size. All
baskets are easily removable & cleanable. Basket strainer elements can be offered in single cylinder, multi cylinder & pleated
design depending upon requirement .They are constructed of filter housing, filter element supported with perforated cage,
positive sealing arrangement to avoid any bypass & choice of end connections.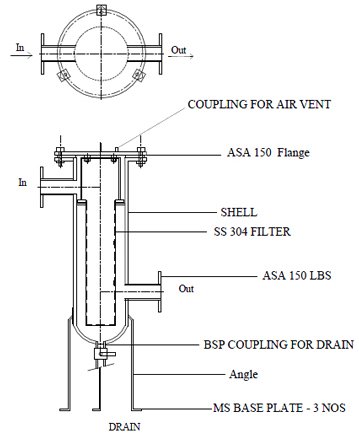 Operation of Simplex Filters
Unfiltered liquid enters the basket housing and passes down through them. Solids are retained inside / outside of basket depending upon design and are removed when the unit is serviced.
Basket filters & strainers are normally supplied with nut/bolt arrangement at the top of filter element. This will ensure any type of bypassing & confirm the position of basket, even in case of reverse flow. Fluid bypass around the basket is prevented by an optional O'-Ring seal between the basket rim and the housing inside diameter.
Salient Features of Simplex Filters
Easy Maintenance
Can handle high flow
Efficient design for desired flow and low cost
All housings made from SS 316 L, SS 316 & SS304 are mirror
polished to resist adhesion of dirt & scale
Carbon steel housings are Epoxy coated & finally painted with
two coats of synthetic enamel
High temperature & high pressure design are available
Efficient design for Inlet/Outlet nozzles placed opposite at 180 Deg
Design Features of Simplex Filters
Precise gross Filtration area of inlet across section area for low
pressure – drop
Strainers meet ASME B 16.5 and ASME B 16.34 standard as required
Blow out gasket proof design for effective gasket sealing (Nitrile,
Viton, PTFE etc)
Our design team is capable to combat space constraints and have
successfully designed of commissioned strainers having less foot prints
area but desired flow rates
Material Of Construction of Simplex Filters
Carbon steel
Caste steel
S.S. 304
S.S. 316
S.S. 316 L
End Connections Available
NPT / BSP Threaded
Flanged Table E / Table F
ANSI B 16.5 Flanged
DIN Standard
Tri Clover Adaptors
Application of Simplex Filters
Process Industries
Chemical Industries
Oil & Gas Industries
Power Industries
Metal & Mining industries
Water & Waste management
Size
Range
Connection Size – 1'' to 16''
Class #150 to #300
NOTE: OTHER SIZES OF CLASSES CAN BE DEVELOPED, PLEASE INDICATE REQUIREMENTS.